SpanLite
™
Self-Illuminated Marker / Light
Featuring two LED obstruction lights illuminated 24/7, SpanLite is the only practical way to make nearly any power line visible to pilots both day and night. In fact, SpanLite specifically meets or exceeds FAA Advisory Circular 70/7460-1L (Dec. 2015), which calls for marking catenary power lines with self-illuminated "marker balls". Since its introduction in 2006, SpanLite has been installed worldwide with excellent reliability and durability.
Call for price
MADE IN USA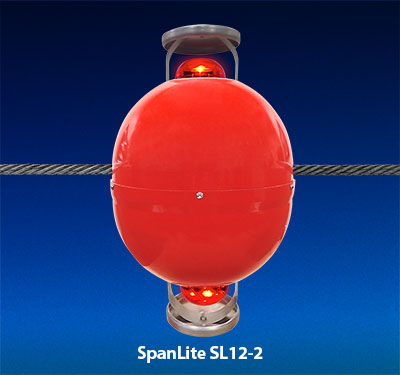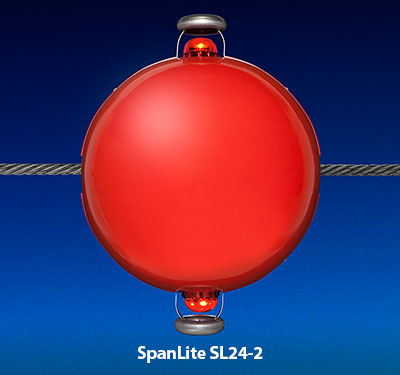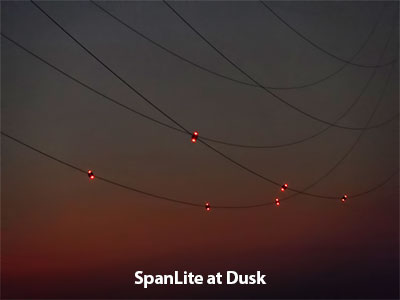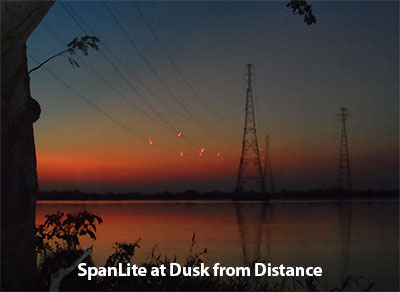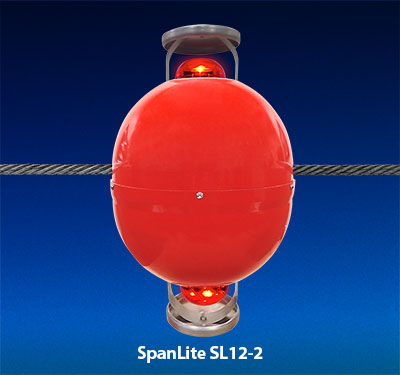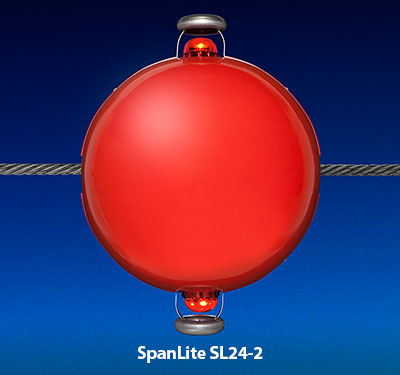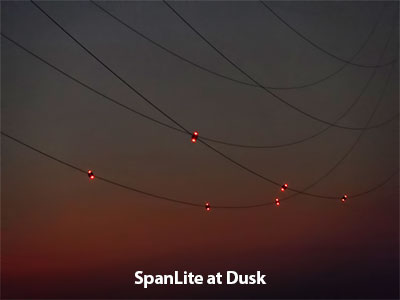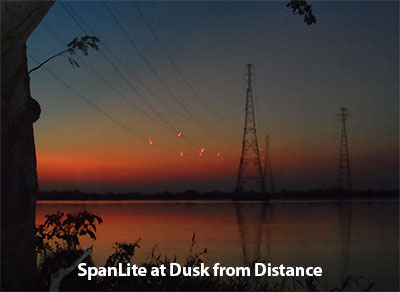 SpanLite Applications
Suitable for marking nearly any power line both day and night, SpanLite power line markers provide two steady red IR-LED obstruction lights with a minimum intensity of 32.5 candela each. In particular, SpanLite meets or exceeds FAA Advisory Circular 70/7460-1L (Dec. 2015) for marking transmission line catenary wires near airports, heliports, across rivers, canyons, lakes, etc.
SpanLite installs directly on live lines from 15 kV to 500 kV and carrying from 40–2,000 Amps. Our flux capacitor and solid state regulator inside the marker pick up the electrical field generated by the line to illuminate two 810 IR-LED lights that each produce 32.5 candela steady red light.* (SpanLite can also be flashed and is available with amber, blue, or green LEDs.)
SpanLite markers should be installed on the highest energized line. However, if they must be installed on a lower line (not more than 20 ft. away from the highest line), then 36″ markers such as our SpanGuard power line markers should be installed on the highest line.
LED technology ensures many years of SpanLite operation with little or no maintenance, and the self-illumination makes it ideal for marking river or canyon crossings, as well as low hanging lines around mines, power plants, and similar installations.
The SpanLite marker is made of aluminum in 12″, 24″, and 36″ diameter models. The aluminum wall is less than 0.1″ thick. Each marker is powder coated with acrylic poly paint, then baked for a durable paint finish. Available colors are international orange, white, and yellow.
LED Obstruction Lights
The two sealed, steady red IR-LED obstruction lights used in SpanLite power line markers require 40 Amps (2,000 Amps maximum) to continuously generate 32.5 candela each. No separate power source is needed, making SpanLite well suited to remote locations where costly and less reliable solar towers might otherwise be needed. The LED technology ensures a long operating life of many years with little or no maintenance. Flashing LED lights and other colors are available.
SpanLite Installation
The lower half of the marker is installed on the line with two U-bolt clamps (housed inside the marker) for secure attachment to lines up to 2.25″ in diameter. The top half of the marker is then bolted on to complete the installation. It is recommended that armor rods be installed between the clamps and the line to ensure no damage to the line.
SpanLite Ordering Information
SpanLite power line markers are a custom, made-to-order product. Utilities should order 8–12 weeks in advance of installation, or longer during the peak summer season or for special orders.
Please allow 4–6 weeks for your order to be processed and shipped. Contact us if you need a specific shipping date. Please note that shipping time is in addition to processing time and will vary according to the shipping address.
Power line markers often cannot ship via UPS, FedEx, and similar carriers. After your order is placed we will contact you to arrange appropriate shipping.
SpanLite 24″ and 36″ models are available for order by phone only. Please call 800-722-8078 if you would like to order one of these models.