860 Series

Obstruction Lights
These lights put LED technology in a traditional L-810 package, meeting or exceeding FAA & ICAO standards. Multiple voltages are available, as is Class I, Div 2. Blue, green, amber, or white LEDs are also available. These rugged fixtures are weather and corrosion resistant. L-810 obstruction lights come with a 5-year warranty.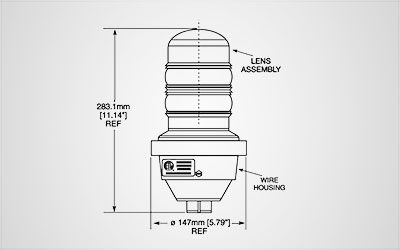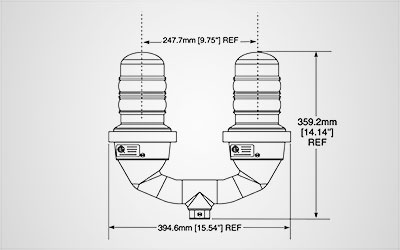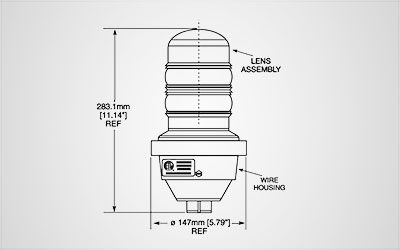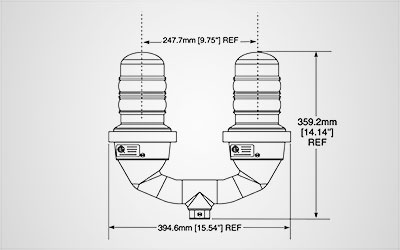 Applications
The FAA advises that steady red obstruction lights be used on towers and communication obstructions from 50–2,200 ft. in height, which can pose a danger to small planes and helicopters at night. Steady red obstruction lights are advised up to 150 ft. in height, medium intensity flashing red or white lights up to 350 ft. high, and several levels of lights up to 1750 ft. See the FAA Advisory.
The L-810 Series is the traditional FAA type red obstruction light, but with long-life LED technology instead of incandescent lamps that need frequent replacement at significant cost and risk. Designed for steady burning, this fixture is used to mark any obstacle that may be hazardous to aircraft navigation. L-810 lights come with a 5-year warranty, but the typical operating lifetime approaches 15 years.
Please note: P&R Tech recommends using the smaller and lower cost RTO Single and Dual obstruction lights in place of traditional L-810 fixtures.
Features & Benefits
Available as a single or dual unit obstruction light
Available in 12VDC, 24VDC, 48VDC, 120VAC, and 220VAC versions (50 or 60HZ)
Earth grounding provisions provided
Unique optically designed lens to enhance LED operation and provide 360 degree visibility
State-of-the-art high-flux LED technology
Lasts years longer than an incandescent
Weather/corrosion resistant lamp assembly and housin
Cast aluminum housing with stainless steel hardware
Self-contained wiring compartment eliminates additional boxes
Threaded 1″ and 3/4″ bottom hub for mounting
Can be operated steady or flashed (controller not supplied)
5-year warranty
Resistant to shock and vibration
IP 65 / IP 66 / NEMA 4X rated
Patented design
Certifications & Compliance
Certified to:
FAA AC NO: 150/5345-43F
Canadian Aviation Regulation CAR 621.19
(Transport Canada)
Compliant to:
ICAO (Annex 14 – Fourth Edition, July 2004)
Specifications
Operating Voltage
Watts (W)
PF
VA
Min
Typ
Max
Min
Typ
Max
Amps
120VAC Units
3
46.5
92
120
132
10
14.5
17.5
120mA
220VAC Units (60Hz)
.17
72
198
220
264
11
14.5
17.5
120mA
220VAC Units (50Hz)
–
–
198
220
264
12
14
17
–
12VDC Units (Standard)
–
–
10
12
14
20
24.5
29
2.0A
12VDC Units (Low Wattage)
–
–
10
12
14
7
7.5
8.8
.62A
24VDC Units
–
–
21
24
27
17
22
29
920mA
48VDC Units
–
–
43
48
53
11
13.5
16
275mA
Operating Temperature
-67F to 131F (-55C to 55C)
Shipping Weight & Container Dimensions
Single Unit           7.14 lbs           16″ x 9″ x 8″
Dual Unit           16.06 lbs         22″ x 17″ x 9″