Redball
™
Low Cost Marker
Redball markers provide a low cost way to mark lines up to 1″ diameter and 115KV. Available in 9″ and 20″ diameters, these markers satisfy the FAA advisory for smaller marker applications. Made from ABS and mounted on TygrGRIP rubber strips, Redball markers can be upgraded in the field with spiral wire preform attachments.
MADE IN USA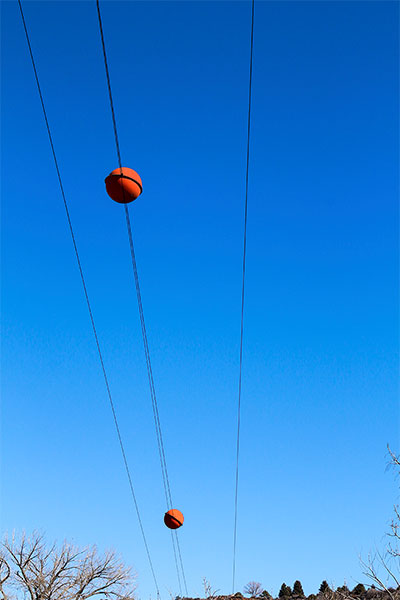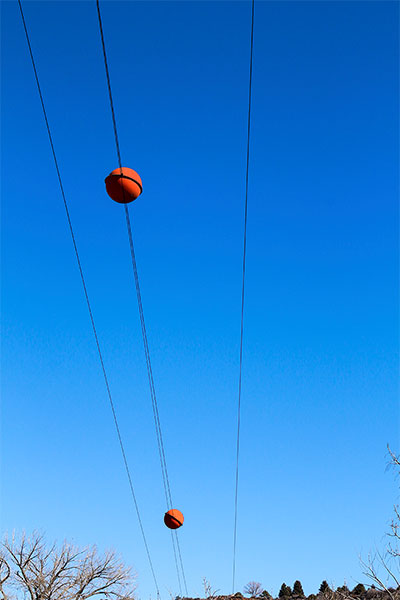 Redball Applications
While the FAA advises that 36″ power line markers be used on high transmission lines and hazardous river crossings, smaller 20″ power line markers are permitted on less extensive power lines or on lines below 50 feet in approaches to airports. Available in 9″ and 20″ diameters, Redball power line markers (formerly Redbell) are an economical solution for satisfying the FAA advisory for smaller power line marker applications and have been used for many years by hundreds of utilities. International orange, white, and yellow colors available.
NOTE: For larger size power line markers, greater durability, higher voltages, bigger lines, or more demanding applications, our various SpanGuard markers should be used.
ABS vs Fiberglass
Redball power line markers are constructed of K-10 ABS, a material that has 15 times the weatherability and color retention of fiberglass. It is also much more durable. Unlike fiberglass power line markers, our ABS power line markers will not crack if struck by gunshots. See photos of failed fiberglass markers.
Easy Installation
Exclusive TygrGRIP rubber strips are used to firmly hold the marker on the line. The rubber is wound around the line to a 1″ diameter, and the halves are bolted together, clamping the TygrGRIP firmly onto the strands.
Redball Ordering
Utilities may stock Redball power line markers in various sizes (the marker halves nest to save space). Otherwise, Redball power line markers are made-to-order, and utilities should order 1–2 weeks in advance of installation, or longer during the peak summer season.
Redball Ordering Information
Redball power line markers are a custom, made-to-order product. Utilities should order 8–12 weeks in advance of installation, or longer during the peak summer season or for special orders.
Please allow 3 weeks for your order to be processed and shipped. Contact us if you need a specific shipping date. Please note that shipping time is in addition to processing time and will vary according to the shipping address.
Power line markers often cannot ship via UPS, FedEx, and similar carriers. After your order is placed we will contact you to arrange appropriate shipping.
IMPORTANT NOTE: Your card will be charged twice: once for your marker order and a second time for shipping (after you have approved it). If you prefer a single, combined charge to your card, please place your order by phone at 800-722-8078.