L-866/885

Dual Catenary
The LED-based L-866/885 red/white dual flashing beacon for catenary utility tower lighting is identical to the L-864/865 beacon, but with flashing set to 60 FPM and flashed in sequence to mark river and other catenary crossings. It meets all FAA and ICAO standards for marking towers used in canyon, gorge, and river crossings. Towers can be lighted by day (white beacon at 20,000 cd) and at night (red beacon at 2,000 cd). The LED-based beacon dramatically reduces required maintenance and power consumption. It comes with a 5-year warranty (typically lasts up to 10 years or more).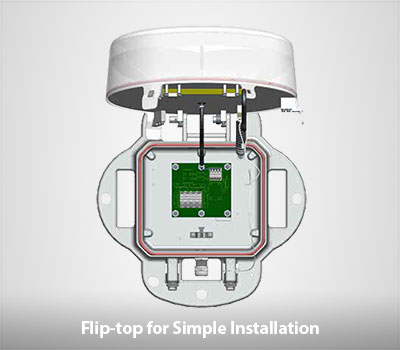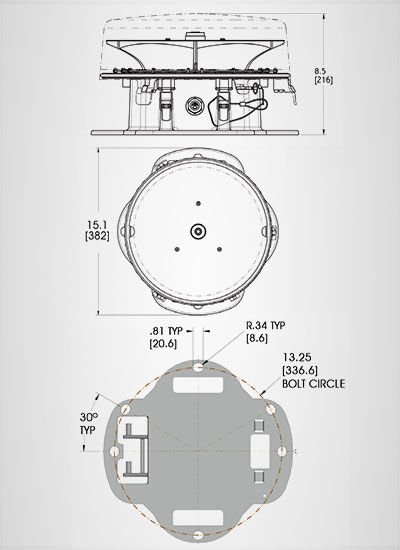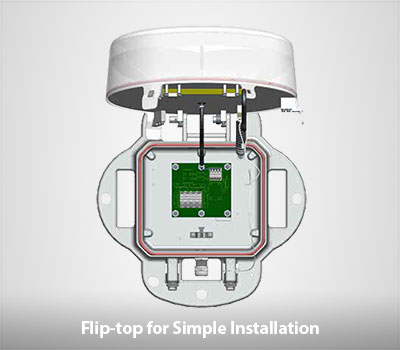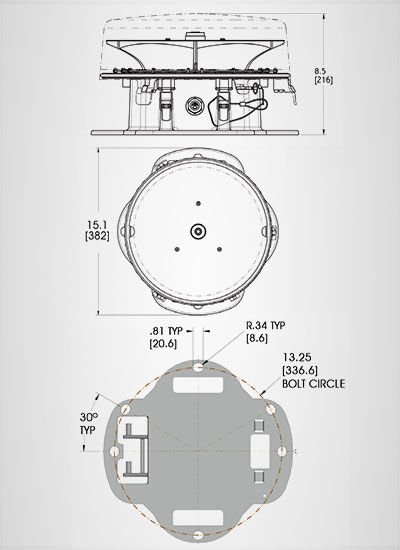 Applications
The FAA advises that steady red obstruction lights be used on towers and communication obstructions from 50–2,200 ft. in height, which can pose a danger to small planes and helicopters at night. Steady red obstruction lights are advised up to 150 ft. in height, medium intensity flashing red or white lights up to 350 ft. high, and several levels of lights up to 1750 ft. See the FAA Advisory.
The L-866/885 medium intensity dual LED beacon obstruction lights are designed for the lighting towers used in catenary crossings, specifically including canyons, gorges, and waterways. In addition to a steady red LED beacon, a white LED beacon flashes at 60 FPM and in sequence with other beacons to satisfy FAA and ICAO standards for obstruction lights.
With working voltages of less than 200VDC, which are significantly less than those of Xenon flashtube designs, this system represents an advance in safety. The L-866/885 obstruction lights operate from a 48VDC supply, and the power supply/control box can be located up to 550 ft away from the light engine, such as at the base of the tower.
Unlike conventional Xenon flashtube technology, little or no maintenance is required during its lifetime. The L-866/885 obstruction lights come with a 5-year warranty, and the typical operating lifetime approaches 15 years.
Features & Benefits
Industry's longest warranty. Complete performance 5-year warranty (Xenon technology only 2 years).
All LED flash head. 10+ years life expectancy. Resistant to shock and vibration. Reduces expensive tower climbs and maintenance costs/ unplanned site visits.
No dangerous high voltage power supply. Enables the use of low voltage flexible cable. Eliminates the need to send high voltage up a tower. Provides considerable safety advantages. Uses standard low voltage supply. Eliminates corrosion due to ozone effects.
Excellent protection against lightning and surges. Designed to withstand IEC61000-4-5, 6kV/3000A, 1.2/50s, 8/20s, 2 ohm output impedance, combination wave, line-line, and line-ground.
Smallest & lightest flash head in the industry. Only 7.28" high, with significantly less wind loading than Xenon dual strobes. Weighs only 26 pounds, making it easy to handle and install.
Very precise optics (patented). Community friendly lighting system with minimum ground scatter light.
Uses state-of-the-art high flux LED technology. Replaces fragile, high maintenance Xenon tubes.
Eliminates RF blasts. LED's do not produce the radio frequency interference that can interfere with cell networks as Xenon technology does.
IP66. Completely sealed from outside environment.
US Patent # 7,281,821. Other Patents Pending.
Certifications & Compliance
Certified to:
FAA AC NO: 150/5345-43F
Qualified By: Intertek ETL
Specifications
Operating Voltage: Universal 120/240 VAC, 50/60Hz power factor corrected supply
Candela: White Day 20,000 cd; White Night 2,000 cd;
Red Night 2,000 cd
Wattage: White Day 120W; White Night 20W;
Red Night 45W
Power Factor: >0.9
Ambient Temp: -40F to +131F (-40C to +55C)
Max. Flash rate: 60FPM
Synchronization: Multiple unit sync from single controller (operates with other manufacturers of GPS sync devices)
Ordering Information
| Part Number | Description | Voltage |
| --- | --- | --- |
| D1RW-L13-008 | FAA Catenary Strobe | 120 – 240 VAC |