MetMarkers
™
Guy Line Markers
Our low cost MetMarkers are bright, highly visible spherical cable markers that help pilots and birds avoid potentially fatal collisions with hard-to-see guy lines. MetMarkers also help prevent costly damage and service outages.
MADE IN USA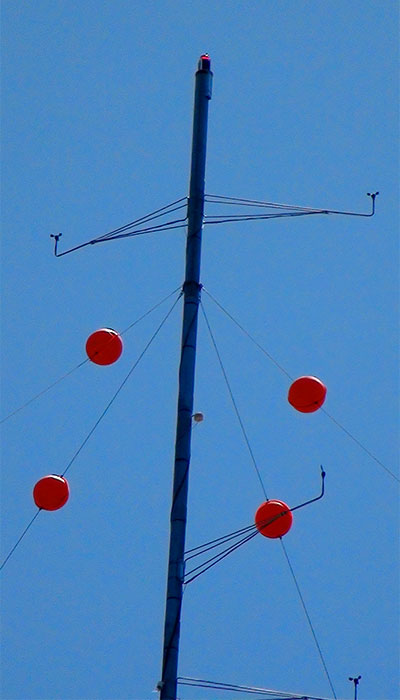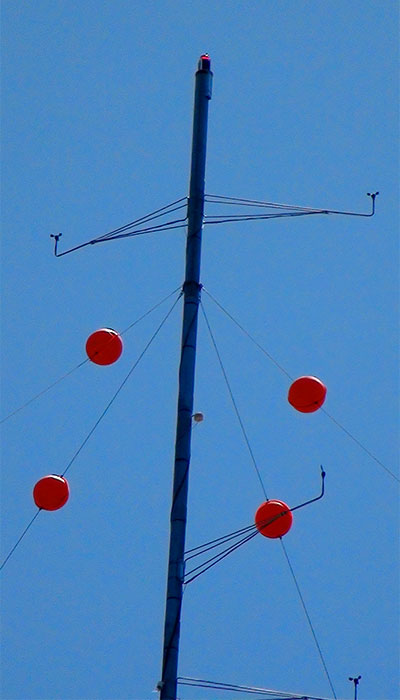 MetMarkers Applications
P&R Technologies has been the worldwide leader in power line markers since 1960, and we have extended our expertise to marking the supporting guy lines for met towers, smaller radio towers, wind turbine installations, and similar obstructions. Marking these dangerous obstructions has become increasingly critical as renewable energy markets continue to grow and more pilots and wildlife are put at risk.
We recommend that each guy wire be marked with a MetMarker at 10ft (3m) below the guy ring on the top set of guy wires. To mark for low flying raptors, we recommend an additional set of guy line markers be installed lower on the same guy wires at least 10ft (3m) above the highest point of vegetation.
Features & Specifications
MetMarkers are available in 9″ and 20″ diameters and in three colors: international orange, yellow, or white. Like our renowned SpanGuard guy line markers, MetMarkers are made of a durable, high tech plastic with a special UV weather cap to ensure long life and brilliant color.
Installation
The guy line markers attach to the cables with U-bolts for easy installation. Includes guy line markers and installation hardware.
Related Products
P&R Technologies also offers solar powered LED FAA obstruction lighting systems for met towers, as well as industry-standard FireFly bird diverters, which are often required by US Fish and Wildlife.
MetMarkers Ordering
MetMarkers guy line markers are a custom, made-to-order product. Utilities should order 8–12 weeks in advance of installation, or longer during the peak summer season or for special orders.
Please allow 2 weeks for your order to be processed and shipped. Contact us if you need a specific shipping date. Please note that shipping time is in addition to processing time and will vary according to the shipping address.
Power line markers often cannot ship via UPS, FedEx, and similar carriers. After your order is placed we will contact you to arrange appropriate shipping.
IMPORTANT NOTE: Your card will be charged twice: once for your marker order and a second time for shipping (after you have approved it). If you prefer a single, combined charge to your card, please place your order by phone at 800-722-8078.