Enterprise Level Fever Screening
As social distancing measures relax, people need to be assured that something is being done to protect their safety and provide a level of comfort in these unprecedented times. The Jogan Thermal Checkpoint is an enterprise level fever scanning system based on thermal imaging that accurately detects elevated body temperature (EBT). It meets and exceeds the Thermographic System Recommendations by the FDA (April 2020), as well as IEC standard 80601-2-59:2017.
Designed for Accuracy and Stability
The design of the Jogan Thermal Checkpoint addresses the inaccuracies that many other systems on the market exhibit due to changes in the ambient temperature of the environment. Such changes are commonly caused by air drafts from A/C, from heating, and from doors opening and closing.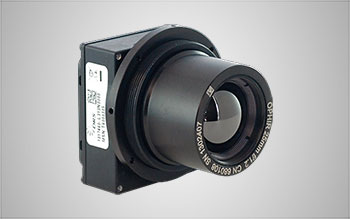 Precision thermal camera for measuring human body temperatures
The Jogan Thermal Checkpoint is built around a precision thermal camera specially manufactured to optimize measurements in the relevant range of human body temperatures. Each camera is calibrated and packaged in a temperature stabilized enclosure designed to closely emulate laboratory test conditions. Accuracy in the field is maintained at +/- 0.3° C (0.54° F) for all calibration points within the camera's field of view.
The precision stabilized camera enclosure is coupled with a laboratory grade "black body" calibration device to manage drift and stability. Drift is less than +/-0.162° C (0.09° F) from stated accuracy at all times. High accuracy and constant calibration together make the Jogan Thermal Checkpoint a fast and reliable way to determine which people might need secondary screening.
Visible Camera for Identification and Extendability
The Jogan Thermal Checkpoint includes a includes a 4K digital camera. It provides a visible image in full color and allows simple identification of subjects who may need additional screening. It also facilitates many of the features provided by our third party AI software partners. This ONVIF compliant camera also streams video via H.265, H.264, and MJPEG, which simplifies integration with existing video management systems.
Simple, Versatile Software for Alarms and Extendability
The Jogan Thermal Checkpoint includes software that ensures the system is accurately calibrated, and it provides a visual alert when the person in the immediate field of view exceeds the customer designated temperature threshold. The alert can also trigger a hardware I/O for further notifications or integration with third party systems and indicators.
A data trending option allows customized body temperature baselines and alerts to be established. This addresses fluctuations in average temperatures for those whose normal body temperature is not 37° C (98.6° F).
Extended Capabilities to Limit Symptomatic and Asymptomatic Spread
Our software partners offer additional features that extend the Jogan Thermal Checkpoint beyond fever detection to proactive solutions for limiting both symptomatic and asymptomatic spread of the coronavirus:
Detecting whether people are wearing a mask

Monitoring whether people use hand sanitizer
Detecting people who try to avoid screening

Auto tracking & geospatial mapping of people with elevated temperatures
Integration with access control systems
Packaged in a Space-Efficient Turnkey Kiosk
Made in the USA and integrated in Denver, Colorado, the Jogan Thermal Checkpoint is packaged in a purpose-built 16 gauge powder coated metal body. This kiosk comes with a 21.5" non-touch LCD monitor, mouse and keyboard, locking cabinet and key, and a 6-outlet surge protected power strip. The kiosk is shipped fully assembled on a compact 32" x 32" pallet, ready to move into place and plug into an AC outlet.
100 Years of Experience, Made in USA
The engineering team behind the Jogan Thermal Checkpoint has over 100 years of collective thermal imaging experience. Manufacturing, assembly, and system integration is regionally distributed throughout the USA, and optimized scaling capabilities support industry leading lead times. The Jogan Thermal Checkpoint is backed by a limited 2-year warranty.
Jogan Thermal Checkpoint Specifications
Thermal Sensor
Uncooled 320 x 240 VOx Microbolometer
Field of View

40 Degree (H)

Pixel Pitch

17 Micron

Spectral Response

7.5 – 14 Micron (LWIR)

Sensitivity

<50mK (NEDT) f/1.0 @ Room Temperature

Thermal Camera Approvals

FCC Class A, ROHS, WEEE

Optical Sensor

4K resolution

Video Compression

H.265, H.264, MJPEG

Kiosk Weight

Approx 140 LBS

Input Power

110-220VAC

Monitor

21.5"

PC Spec

Intel Celeron, 4GB DDR4, 120GB SSD, Windows 10 IoT Enterprise

Accessories

Keyboard and Mouse

Network

10 / 100 Base-T

IP

IPv4

Optical Sensor Approvals

FCC, CE, IP66

Calibration Source

110-220VAC Input Power

Temp Accuracy

+/- .3 Degrees C

Output

Hardwired I/O Interface

*The Jogan Thermal Checkpoint kiosk is not considered a medical device, is not for medical use, and is not for use to diagnose, prevent, or treat any disease or condition. The Thermal Checkpoint Kiosk provides a cursory temperature scan, and it is at the full discretion of the user to determine any actions that may be taken based upon the information provided by the Thermal Checkpoint and/or the associated software. Sale and export of this product outside of the United States is strictly prohibited unless done so with the appropriate licensure from the appropriate U.S. governmental agency.